do you like shopping for nerdy clothes/items and can't find the right designs? well, i think red bubble would be perfect! actually, i know it is! i've began to dive into the black hole that is red bubble! as you might already know, red bubble is a site where you can buy items of various categories from t-shirts, hoodies, stickers, clocks, tapestries, pencil cases, phone cases and literally so much more!! they give independent artists a meaningful new way to sell their creations. today, they connect over 700,000 artists and designers across the planet with millions of passionate fans. there's so many designs to choose from, you could spend HOURS browsing with intent to look for a simple shirt with a fox design, and end up with 20 items in your cart ranging from stickers of avatar the last airbender or a fairly odd parents hoodie and some aesthetic looking phone case! i've been there and done that! it's an incredible platform for artists to sell their work and great for everyone to buy and support them in a very stylish way!
today, i wanted to share TWO items i bought last week and am already obsessed with!! the first item is this KIKI STAMP PULLOVER, it's inspired by Kiki's Delivery Service and is so cute i couldn't resist! i bought a medium because i love the oversized style, especially with chilly autumn weather a month away (hopefully)! it's created by OWLHAUS and they have a lot of other cute and amazing designs like animal crossing and serlock and more! sometimes you can find a favorite artist/creator and you could follow their shop page to always stay up to date on new items!
the second item i bought was this adorable SOKKA n ZOOKS sticker inspired by two of my favorite characters in Avatar the Last Airbender! when i saw this design i immediately wanted it! it's currently on my laptop since i haven't found another way to display stickers, maybe on my nintendo switch… BUT i'm definitely thinking of getting this exact design in a t-shirt!! this was created by MADHLNE and she also has a lot of other cute stickers and designs to choose from! i love how it's in the cutest text form and i just love this conversation, the last season was by far my favorite!
those are the two items i wanted to share! i know it's not much, but i really want to start sharing more about the fandom items i get because i know you would all love them too! i wanted to also share some other items/designs that i almost bought but decided to sit aside for when my wallet isn't so empty!!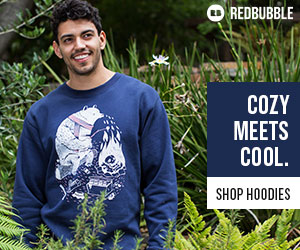 some more red bubble faves!
let me know in the comments if this post inspired your next red bubble haul! i'd love to know! they're really a great site and have a huge variety to choose from, even if you're not into nerdy things, they have plenty of styles for everyone!
i hope you enjoyed this blog post, i'll talk to you all again in the next post!
lots of love,
**i was compensated for this post. this post also contains affiliate links and i will be compensated if you make a purchase after clicking on my links—it supports my blog and channel so thank you very much!!